A message from the leadership at KLRU on the screening of the Vietnam War
A message from the leadership at KLRU on the screening of the Vietnam War.  The TexVet team very much appreciated the invite and are excited to see the entire film.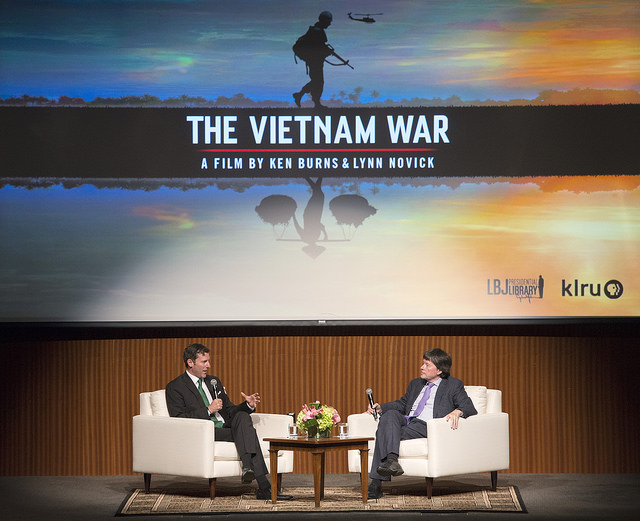 Thank you to everyone who joined us last week at the LBJ Presidential Library for a screening and discussion of the upcoming PBS film THE VIETNAM WAR with special guest Ken Burns.
A capacity crowd was mesmerized by the film clips and conversation with Burns as he spoke with former LBJ Library Director Mark K. Updegrove about the project that took he and co-director Lynn Novick 10 years to make. View their conversation here and program photos here.
We were also honored to have President and Lady Bird Johnson's daughters, Lynda Johnson Robb and Luci Baines Johnson, in attendance. They spoke to KLRU's news and public affairs program Decibel and you can watch that interview here.
Looking Ahead
In support of the film, KLRU-TV, Austin PBS has launched an initiative to create dialogue around the film and to tell stories from Central Texans about the war. To learn more about events surrounding this initiative, or for information on hosting a THE VIETNAM WAR screening, visit klru.org/vietnam.
And, mark your calendars for Sunday, May 28 at 8:30 p.m. KLRU will air a special preview of THE VIETNAM WAR that takes a look at the creation of the series. Featuring interviews with filmmakers Burns and Novick, behind-the-scenes footage, and exclusive clips, this preview will give viewers an advance look at this fall's most anticipated film.
 
Again, we are so glad you could attend last week's event. It was part of a continuing partnership between KLRU and the LBJ Presidential Library. Both organizations have a common goal of enriching the community through educational opportunities and presenting historical facts to help put current events in perspective.
Sincerely,
Amy Barbee
Executive Director, LBJ Foundation
Bill Stotesbery,
CEO/General Manager, KLRU-TV, Austin PBS